PET
PARADE
The parade route will travel west on West Franklin Street past the Main Stage located at 12th Ave. The Pet Parade sponsored by the Pet Food Center is open to children of all ages, with or without pets.

The parade will start promptly at 10:00 a.m. Saturday October 7th. Line up and judging will be at St. Boniface's parking lot starting at 9:00 AM.
Dress up your child in their favorite costume, grab a pet to dress up (If you wish) and come on down to the Pet Parade and have some fun!

To Participant:
Anyone wishing to participate in the West Side Nut Club Pet Parade should report to the St. Boniface parking lot, located at the corner of Wabash and Michigan Avenues, at 9:00 a.m. on Saturday, October 7, 2023. Judging for awards in the eight categories listed below will take place between 9:00 and 9:30 a.m.
Note: Judges are area students, teachers and adult volunteers who are not members of the West Side Nut Club.

The parade will start promptly at 10:00 a.m. and follow the outline on the map. Participants arriving after the judges have dispersed must understand that they are encouraged to join the parade but that they will not be eligible for judging awards.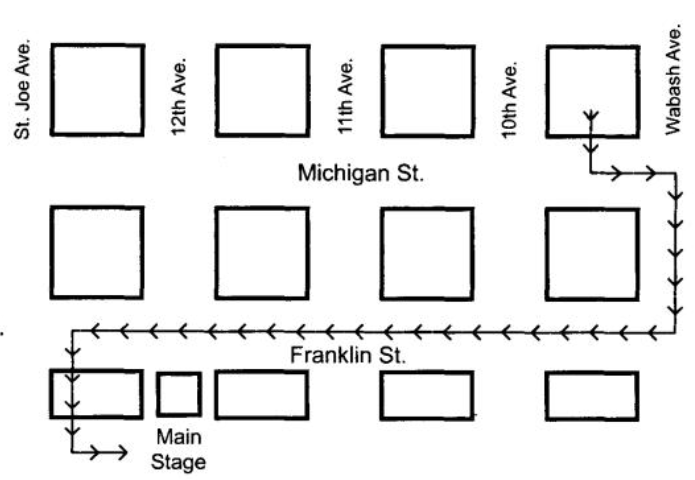 Treats will be distributed to all participants when they arrive at the 12th Avenue location behind the stage. At this time those who have been chosen for special recognition will be escorted to the stage and receive their awards. All winners are invited to participate in the main parade on Saturday evening. Those who wish to do so must be at the corner of 7th Avenue and Franklin Street at 6:00 p.m. We would like to thank all the participants and their parents for their efforts put forth in this parade, without them it could not be a success.

The eight categories in which participants may win an award are as follows:
1.) Girl with Pet
2.) Group with Pet
3.) Boy, no Pet
4.) Boy with Pet
5.) Girl, no Pet
6.) Girl with Pet
7.) Special Group
8.) Large Animal

We ask that no full size vehicles are used to pull trailers or participates in the parade. ATV's, Go Carts, Side by Sides are allowed.
No promoting any business or political parties will be allowed.